Have you ever thought about starting your own enterprise, but did not know where and how to start? Apply for the Student Founders Programme by sending us your CV and motivation and start your entrepreneurial journey at ECE Students! ECE Students is proud to announce the Student Founders Program: an immersive 10-week workshop cycle with bi-weekly entrepreneurship classes for anyone interested in starting their own business. In collaboration with real-life entrepreneurs and experienced industry professionals, this workshop cycle will allow you to learn about the entire startup process from ideation and validation models to implementation strategies and even legal practicalities.
Mission
"Our Mission is to inspire and encourage entrepreneurial minded students to start their own Startup by providing them with all of the practical and theoretical materials needed to do so successfully."
Our Goal
"To become an intermediary between students with ideas for startups and successful entrepreneurs who wish to share their knowledge with growing founders in order to provide them with a boost and the specific steps needed to start their company with a bigger probability of succeeding."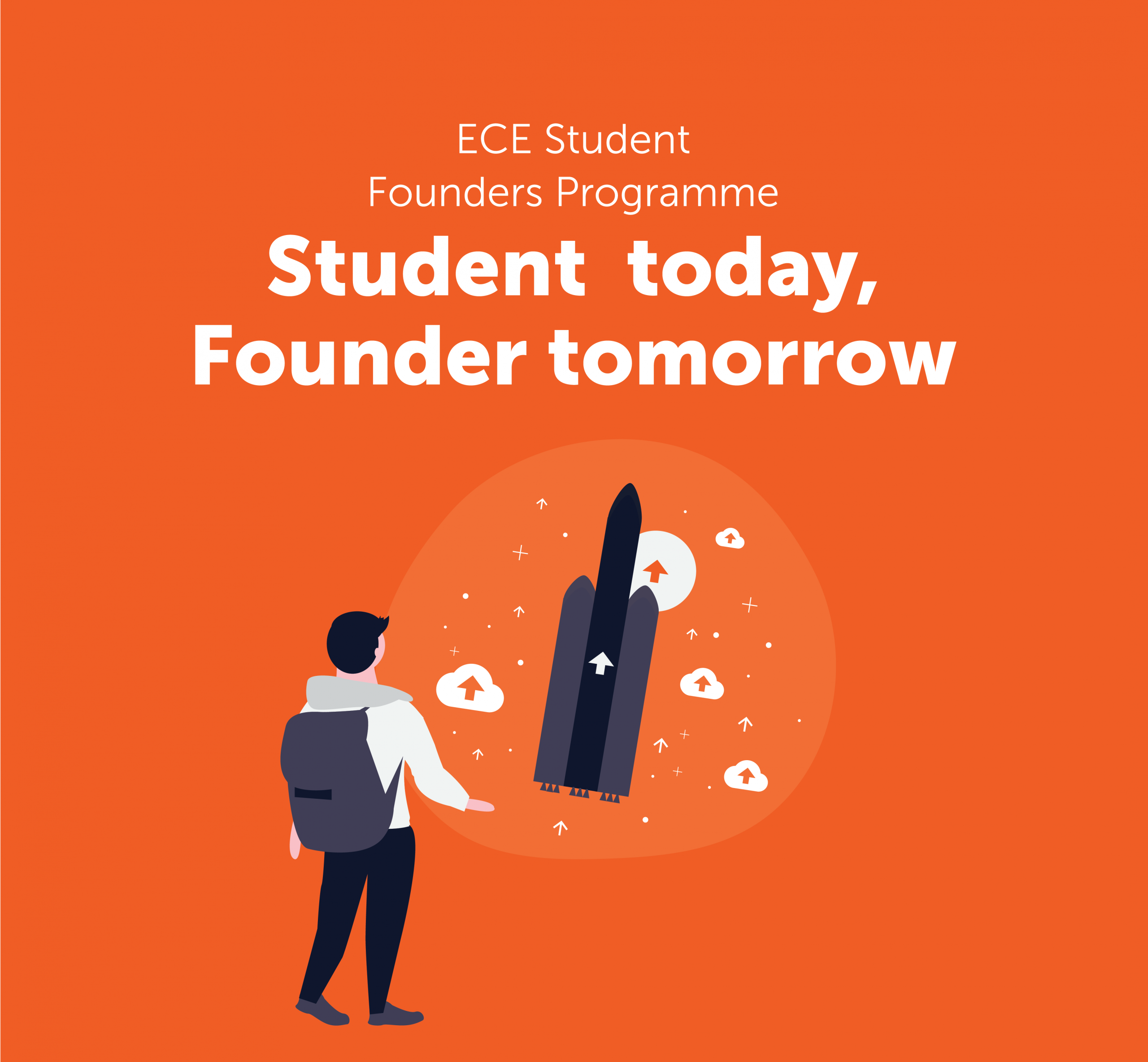 Agenda of the Student Founders Programme
The Programme will take place on a Thursday every 2 weeks at the Cambridge Innovation Centre (CIC) in Rotterdam, from 17:00-20:00, followed by drinks at the Venture Café.
General topic Stage 1: Introduction to Ideation
Workshop 1: 13.02 –  Fear of Failure + Understanding Risks and Returns
Workshop 2: 27.02 – Design thinking
General topic Stage 2: Validation
Workshop 3: 12.03 –  Market Research
General topic Stage 3: Business Model Canvas
Workshop 4: 26.03 –  Lean Business Model Canvas

General topic Stage 4: Financial/Legal
Workshop 5: 09.04 –  Legal & Financial
Workshop 6: 23.04 – Funding Options: Private (Investors/VC)
General topic Stage 5: Business Strategy
Workshop 7: 07.05 –  Scalability
Workshop 8: 21.05 – How to hire a Team/Brand Identity
General topic Stage 6: Implementation
Workshop 9/Event Participation: 28.05 – Pitch to Investors
Location: Cambridge Innovation Centre (CIC)
To participate and complete our programme the following is required from the potential participants:
Initial cost of

250€

. Upon completion




of the programme, the stated amount will be

fully




reimbursed 

You are allowed to miss

1

workshop due to unforeseen circumstances, and will have to notify us

24 hours

before the relevant workshop with a valid reason. 

Be a Community Member of ECE Students (

Free

)

Limited amount of spots are available (

30

), participants will be selected depending on their motivation.
Once the programme is completed you will have gained the following: 
exposure to invaluable information and

knowledge


concerning entrepreneurship

A strong

network

with both professionals and fellow




students as a result of the environment full of like-minded




individuals

An

official certificate

signed by Erasmus Centre for Entrepreneurship, a leading accelerator in the Netherlands

A new

family

in ECE Students
Next Steps
What are the next steps for those interested?
Become a Community Member 

Submit your CV and Motivation for why you want to be

part of the SFP before

February 7th

Fill in the typeform link below

You can expect an answer within a week of the deadline