Palanta.co: Ethical wardrobe for a greener future
By Georgia Kirilova & Emily Briggs
Meeting Sara
Sara Toth is the founder of Palanta.co, a sustainable startup seeking to disrupt fast fashion and clothing waste industries. For those unaware of the origins behind the sweeping sustainable clothing movement, it starts with fast fashion – the inexpensive mass production of clothing to respond to new trends quickly (and often wastefully). The industry is notorious for its controversial supply chain: from outsourced low-wage factory workers to wasteful "cut and slash" disposal practices. It also happens to be a $35B industry, meaning that no matter the ethical implications, lucrative opportunities for profit will continue to keep the industry running. That is, until alternatives begin to take the stage. Media attention already criticises fast fashion, but sustainable clothing practices can only accelerate the movement.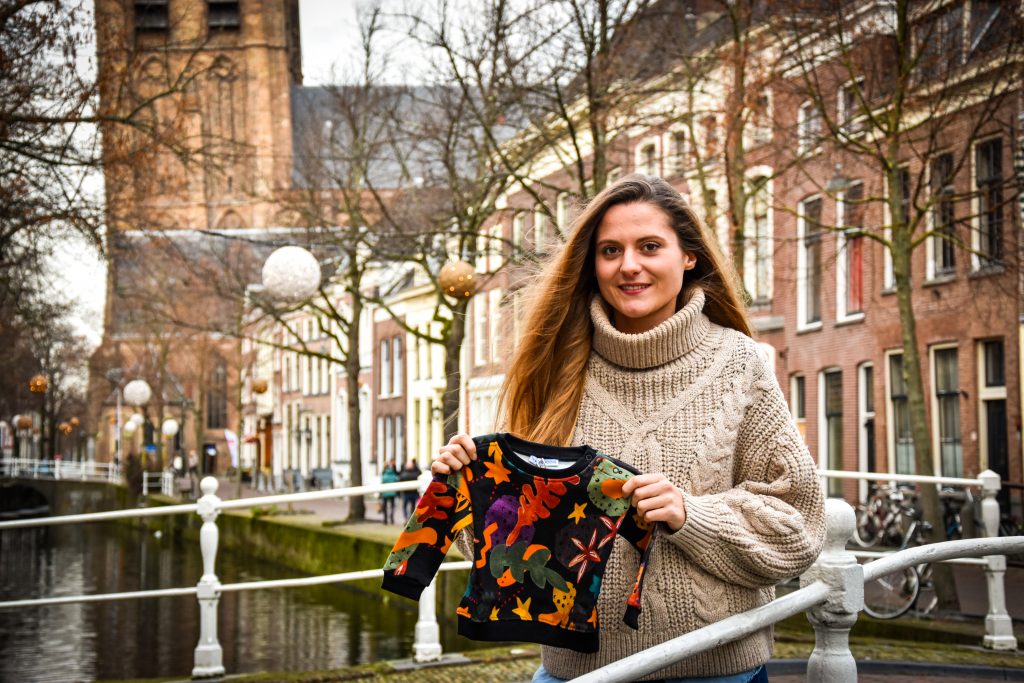 Palanta.co Explained
We chose to spotlight Sara for her efforts to change the clothing industry for the better. Her team is working to develop conscious clothing habits in her userbase through Palanta. Palanta is an online, subscription-based wardrobe. Ethically made clothes from local designers are uploaded to the site, where users can simply choose their favourite pieces to be sent to them. Each clothing item is charged on a monthly basis for wear. When the user decides they no longer want the pieces, they are returned to Palanta's inventory and once again become available to subscribers to the service.
Currently, Sara notes that her target market is limited to women, specifically maternity wear, and children's clothing. This group was carefully chosen. Often, children quickly outgrow their clothing and pregnant women only need maternity clothing for a few months. With this concept in mind, Sara developed Palanta's initial niche market of subscribers: people with the underlying assumption the clothing lifetime is temporary, not indefinite, and are therefore in quick need of clothes. Some items like a leather jacket, Doc Martens or other high-quality clothing is bought with the product's ideal lifetime being "forever". Fast fashion does the opposite, intended to capture fads and therefore a consumer's money as quickly as possible. For this reason, fast fashion tends to have a target market of consumers looking for a hasty fix to their closet. Palanta.co offers a sustainable, ethical alternative for this same target group.
Beyond the Wardrobe
Sara made it clear that her mission is to go beyond the operational side of her business. She strives to build a community. Her team is busy organising 'Green Events' around the local community of Delft in order to spread awareness and give to charity. In addition, her team organises 'Eco Workshops' given by local fashion designers and craftsmen for those interested in clothes design and upcycling.
The Palanta team is working to officially launch the enterprise in March. Until then, you can visit palanta.co to see their upcoming events and sign up for their mailing list, where you'll be notified of any updates and additions to their product line.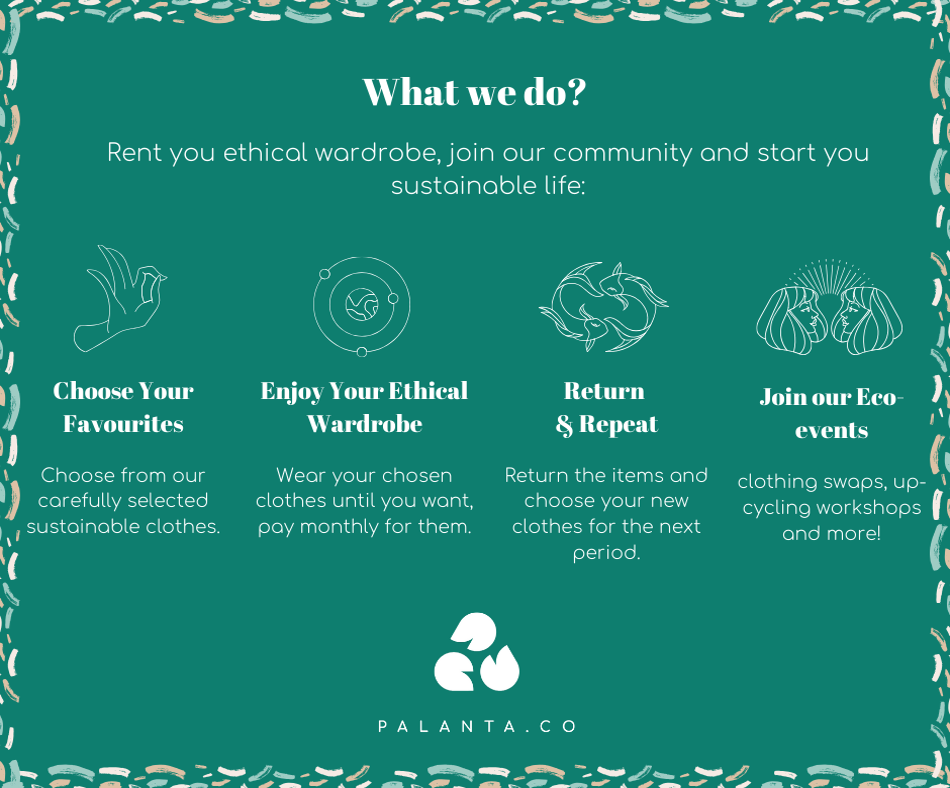 Inspiration
Sara's parents are both entrepreneurs. Growing up with these influences, Sara jokes that "the entrepreneurial spirit has to be in her veins". In addition to studying business, she quickly discovered her passion for the startup lifestyle. Work on her own personal sustainable business started after she moved to the UK. In her free time, she was able to research sustainable enterprise, inspiring her to reevaluate her current lifestyle. Specifically, Sara mentions her lifestyle in Budapest, where she had an entirely separate room for all of her clothing. Moving across Europe and reflecting on these experiences made her realise she did not need nearly as much as she once thought. More importantly, she realised everyone can live with less. These critical moments in her reflection period were where the idea of Palanta originated.
To validate this idea, Sara shared her concept online using social media. Her posts received a tremendous amount of positive feedback. After just one night, 80 people applied to join her site. This not only provided a tangible visualisation of the demand for her concept, but also provided Sara the confidence to bring this idea to life.
The pre-launch period is one of Sara's busiest moments, with preparation being done around the clock. Sara didn't try to hide her stresses and tiring moments from us as we interviewed her. She rattled off lists of tasks yet to be completed, people yet to be contacted, improvements yet to be made. It is a tiring process. But given that this startup is the realisation of Sara's passion, she knows it's worth it. Balance between work and life can be toughest for an entrepreneur, who's passion is so heavily intertwined with their work. Despite this current imbalance, Sara is confident in her ability to work on her work/life balance as Palanta grows.
Future Plans
Of course, all founders want to see their dream grow. Sara's dream is to expand her concept to other countries. Instead of relying on traditional shipping methods for her inventory, she intends to franchise. This adds to the credibility of her sustainable enterprise as franchising allows for designers to remain local and the environmental impact of shipping to be minimised. Further, it allows for more people to enact her dream of sustainable wear. This organic growth is what will ultimately sway consumers away from fast fashion sources. For now, Sara is focused on identifying her closest and most realistic markets as well as working on strategic pricing models.
Final Thoughts
Sara advises to see the beauty in entrepreneurship. The exhaustion of working on an idea day and night, of launching a business, of dedicating your work to your passion is what makes entrepreneurship both chaotic and beautiful. The Palanta team exemplifies this trope, enjoying the responsibility, courage and skill to bring their dreams to reality.
Next week, Erasmus University will be promoting its sustainability days. Workshops by the Erasmus Sustainability Hub and other associations on campus will be working to promote sustainable enterprise. At ECE Students, the Social Entrepreneurship Masterclass will be in session for those interested in learning how to start their own sustainable business. Sign up before February 12th to join us and become part of the change.