24 Hour Business Game
May 10 | 13:45 – May 11 | 16:00
Rotterdam Science Tower
Marconistraat 16
Grand Prize
€1500,- in startup funding
DEADLINE
Early Bird: May 6 23:59 – €15
Late Bird: May 8 23:59 – €16.99
Late Late Bird: May 9 23:59 – €20
The 24 Hour Business Game 2019 Starts In
 ECE Students' biggest and most anticipated event, 24 Hour Business Game is BACK!
24HBG provides aspiring student entrepreneurs with the right tools, workshops and professional supervision that guide them through the development of their business models in 24 hours. This event is mainly targeted to students who are interested in entrepreneurship, yet have a limited understanding on the practical side of starting their businesses. It's a unique concept that exposes curious students to the world of entrepreneurship and maybe find their future business partners. Last year's event was a great success with around 120 participants present and speakers from startups and innovative corporates like Google and Amazon Web Services. 
Join ECE Students in an intense and exciting accelerator program, in which you will turn an idea into a business as a team in just 24 hours!  Even if you do not have an idea of what you want to develop as your startup, don't worry! You will have interactive workshops and guidance from various successful entrepreneurs specialised in:
Marketing and Brand Exposure
Venture Capital
Investment banking
and many more!
During the night, you will network with the founders and CEOs of organisations, as well as get tailored help from other student association experts for your business idea as deemed necessary! To top that off, a final battle of the greatest will end with a GRAND PRIZE! We, entrepreneurs, work hard but we also like to play hard. We'll stay powered throughout the event with:
FREE delicious dinner, snacks & breakfast
Open bar
Midnight Yoga
Interactive game
Are you interested in this chance to  network with our experienced speakers and judges, as well as find out about massive job opportunities? If so, save the date.
Early Bird ticket: €15

Late Bird: €16.99

Late Late Bird: €20

There are limited spots available, on a first come first serve basis, so clear you calendars on the 10th and 11th of May and make sure to register as soon as possible!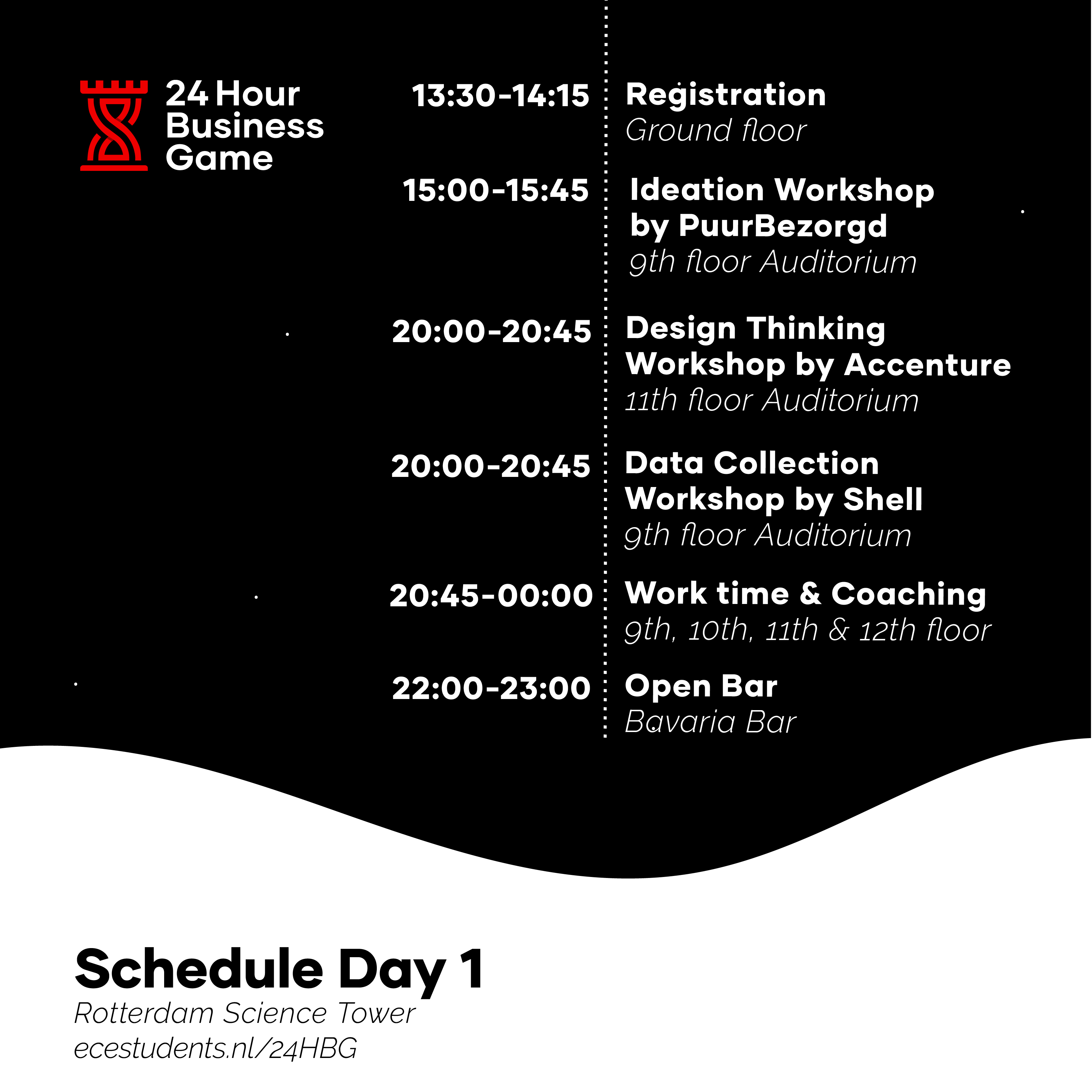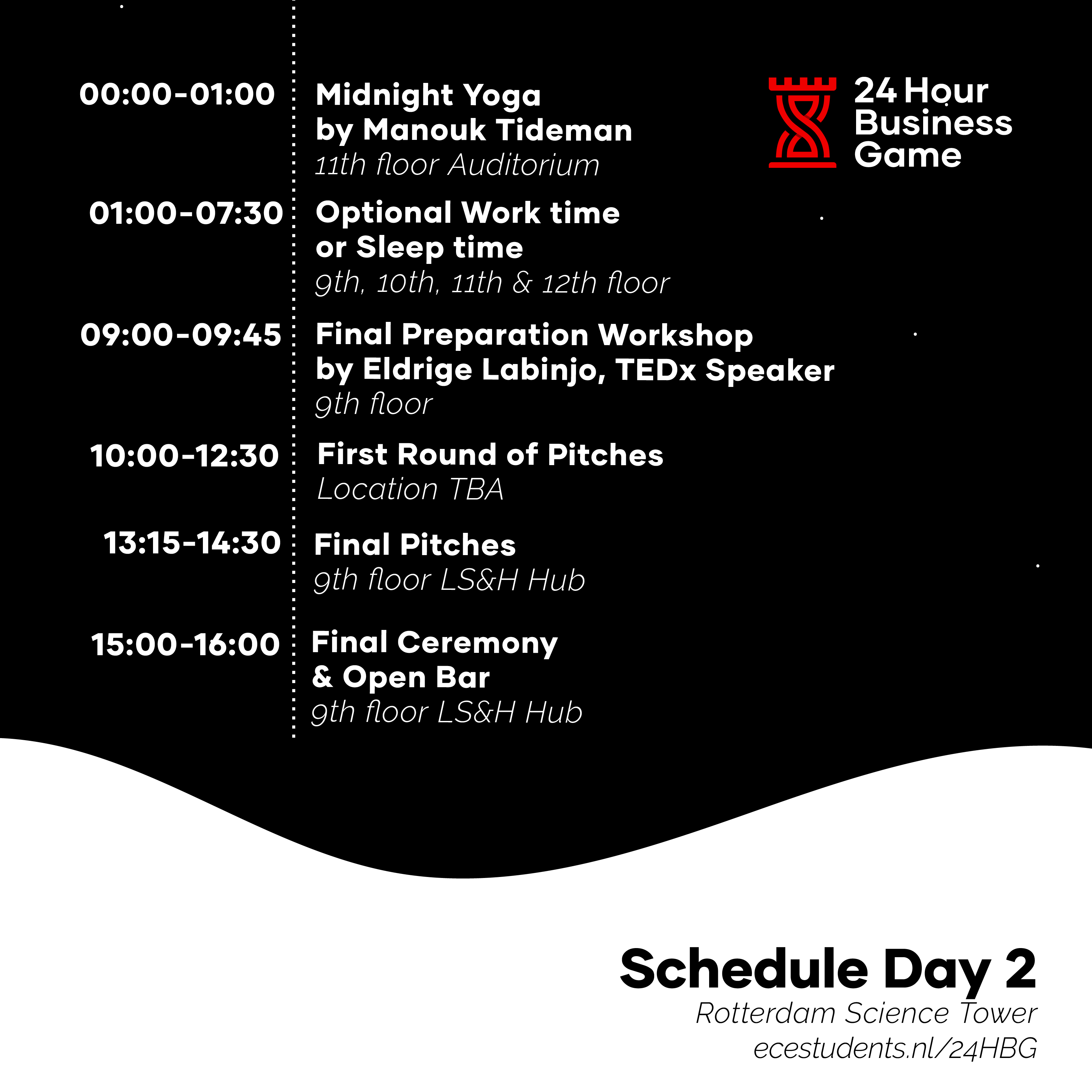 > 500 Students
Participated in 24HBG since 2013
> 50 Firms
Participated in 24HBG since 2013
>30K
Reach on Social Media Channels
We have welcomed participants from:
Erasmus University Rotterdam
Rotterdam School of Management
Hogeschool Rotterdam
TU Delft
Nyenrode Business Universiteit
With a wide range of backgrounds
Engineering
Business
Economics
Econometrics
Science
Do I necessarily need to have an idea to join 24HBG?
No! There will be a workshop specifically for ideation, you can come up with an idea during the event.
Can I sign up individually?
You can apply alone or as a team (each team member has to sign up), and with/without an idea! You will be assigned a team if you wish so, and you can brainstorm your idea at the event. Optimally, teams should count 3-6 members.
How many people should be in a team?
Suggested team size is between 3 to 6 people.
Do I have to be a student at Erasmus University Rotterdam?
No! Any students can attend the event. We welcome Hogeschool students and students from other cities as well.
Is this event only for bachelor students?
No, master students are more than welcome.
Is there a dress code for the event?
No! However, for the pitching competition at the end of the event it is advised to bring business casual clothing.
Can I get a refund if I decide not to come anymore?
We do not provide refunds if we are informed less than a week before the event.
When is the deadline for signing up?
Early Bird Ticket Sale ends May 5th, 23:59.